Podcast: Play in new window | Download
In today's episode of the Realtennis Network, I interview one of the top tennis researchers in the industry, Andy Fitzell and we cover some of the key tennis fundamentals that every player needs to be successful.
Over the past several years, Andy, alongside tennis legend, Vic Braden, has analyzed the worlds top players using the sophisticated APAS software (Ariel Performance Analysis System ) that quatifies movement.  Andy is considered an EXPERT when it comes to using this software.
Some information about Andy that may be of interest to you might be:
Certified Dartfish Technologist (Dartfish is considered one of the leaders in tennis analysis)
Director of the Vic Braden tennis College
Speaker at many USPTA and USTA National Conventions including the US Open
USPTA P-1 Tennis Professional
USTA High Performance Coach.
Vice president of Junior tennis ambassadors, a program  that teaches young students to coach their peers.
And for those of you who do not know who Vic Braden is one of the pioneers in tennis research and was awarded as contributing the most to tennis in America by the USTA.  Vic is a longtime sports science researcher, licensed psychologist and the founder of Vic Braden Sports Instruction and the Vic Braden Tennis College, which are held nationwide at premier resorts.
In my interview with Andy, we will discuss some key tennis fundamentals that every player must have no matter their style or swing pattern.  It was very interesting to me how all of the top players have the same fundamentals within their own swing patterns.
You will definitely want to listen to this episode if you are interested in:
Why you cant hit down on a serve
Why imagining a "Long/Narrow sidewalk will help you stay more consistent
How the modern "Windshield wiper" forehand can hut your game
Why hitting zones are the most important part of any stroke
Why it might be OK to change your grip on a return of serve
Why Nadal gets more spin than most everyone else on the face of the planet
Why your racquet face needs to be close to vertical for both slice and topspin
Why roger Federer's racquet face drives out in a linear motion for over 5' on his backhand
Why tossing the ball lower can keep the ball in the sweet spot of the tennis racquet 20-30 times longer
How to possibly add 10-20 MPH on your serve in 10 minutes
Why hitting the ball 3-5' over the net is so important
The THREE components to being a great player
He comes to these conclusions using the APAS system.   APAS captures actual match play by stationing three cameras on the court. In the lab, Andy digitizes each body joint, on each frame, which results in a skeletal figure.  Any body segment, and the racquet, can then be calculated for speed, acceleration, degrees of movement, r
acquet head placement at ball impact and many more kinematics.
The digitized joint centers are: feet, ankles, knees, hips, shoulders, elbows, wrists, hands, head, six points on the racquet, and the ball.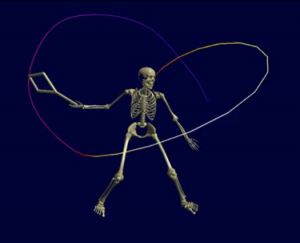 One very cool story I got out of Andy, and you can witness this during the US Open this year, is how he hit with Roger Federer while at the Indian Wells tournament this past spring, discussed his game and even starred in a commercial with him, which will air during the US Open.
Andy has also digitized Roger's strokes using the APAS System and has some great points regarding Roger's game.
What I learned from today's interview with Andy
Like Andy said, you hear words like "The modern forehand" but underneath it all, the same rings true today as it did 20-30 years ago, which goes to show why the equipment changes have been  key in how the game has changed more than we might think.
Sure, there are different stances, grips, stroke patterns, but it all boils down to racquet face at contact and how it moves prior, at and even after contact. These principles tend to be consistent over time.
So what I am saying is that there is no "RIGHT WAY" to hit a ball necessarily, but there are common denominators that all of the great strokes have in common.
As coaches, it is up to us to take your "STYLE" and try to incorporate these common denominators into your style BEFORE we make any major changes in you swing. This way, you can do what you do naturally and work to infiltrate the key common denominators into YOUR stroke.
Remember, coaches that teach only one way to hit the ball, usually (definitely not all of the time) do this because that is the way they were taught or that way worked for one particular player and they are trying to ride it out as long as they can.  Sure, I will start with a particular grip and/or swing pattern with a beginner, but am reluctant to change anything that has been engrained into a player, other than these common denominators, unless it is absolutely necessary.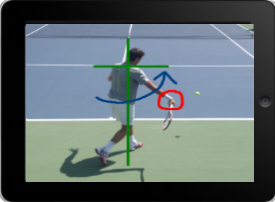 An example might be the backswing. Sure there are a variety of different methods, but the racquet tends to stay on the 180 degree position of the body in all of the backswings no matter how they take it back. In other words, it tends to not go past the 6:00 position at any time during the swing pattern.  Straight back, small "C" or "BIG LOOP" it stays in the same area to produce a linear motion.
If you take a look at the image on the left ( I took this while at the US Open last year on a practice court), del Potro has quite a big loop on his forehand, but it stays to the right of the green line that I have drawn vertically. The blue line suggests that if he took his racquet past the green vertical line during his backswing, how his racquet would have to travel in a circular motion, prior to contact, giving him a small "hitting zone".
The hitting zone might be defined as where the racquet face is vertical and driving out toward the intended area where you want the ball to go.  If the racquets and ball make contact in this area, you will have a very high chance of being successful.
Andy mentions that the pros hitting zones are up to 5″ long and more which the human eye really can't see in full speed, thus giving us a "warped" view of how to hit the tennis ball.
My Father-In laws way of thinking (the non-tennis player with an extremely rational mind)
Think about it, if you want the ball to go to a certain area of the court and you know that:
The tennis ball is only on the racquet strings for about 4 milliseconds (that is 4 one-thousanths of a second)

And you do not know where contact is going to actually occur
You might want to keep the racquet face in the position where you want the ball to go for as long as possible to give you the most room for error in your stroke.
For example, if the racquet kept traveling along the blue line in a circle, and he wanted to hit the ball down the exact center of the court, he would have little chance of hitting the ball down the center of the court.
By keeping the racquet to the right of the green vertical line, his forward swing will be much more LINEAR, thus giving him a much larger hitting zone (a common denominator that every great forehand, in this case,  has.  Like Andy said, that straight line through the hitting zone is crucial to give players a lot of room for error on their strokes in regard to timing and direction.
Just go to any site online and look at a photo of a player making contact ( a good player) and you will see this vertical racquet face.
OK, now back to some points about the interview:
Look at Federer, Nadal, Djokovic, Williams, Sharapova……. Completely different ways of hitting the ball, but they have the same major components within their styles of hitting.
This is what Andy is getting at……..
The common denominators.
I hope you enjoyed my interview with Andy Fitzell for discussing what is really happening out there on the tennis court and trying to put it all into simple terms for all of us listening.  I am sure looking forward to his commercial with Roger during this years US Open
Remember, To get a one-page template of today's show, scroll to the bottom of the show notes and download it for your files or notebook
And it would really mean a lot to me if you could take the time to review this podcast in iTunes. And "Thank You" in advance if you decide to do so
I have included some links that may interest you near the bottom of the show notes at realtennisnetwork.com and one link will direct you to the APAS system in action.  I have also included Andy's contact info if you would like to get a hold of him directly.
If you would like to comment on today's episode, you can do so at the bottom of this post
What issues do you want answered about your game?  Send me an email at mick@realtennisnetwork.com or go ahead and push that BIG RED BUTTON  so I can get your question audibly emailed to me and, who knows, I may even answer it on the air.
A big Thanks to you our listener. I really appreciate you taking the time to listen to this podcast.  It means a lot to me that you took time out of your day to listen and I hope that I can continue to keep you listening by giving you exciting content.
I hope to spend more time with you next week on the Realtennis Network.
Episode 007 Template – CLICK HERE

Links related to this episode