Podcast: Play in new window | Download
Today I am honored once again to not hold back and go straight to the top in my quest to offer you instruction from some of the top playing and teaching professionals from around the world and today I have BOTH
In my interview with Tennis Great Emilio Sanchez, former #1 ATP doubles player in the world and former #7 singles player in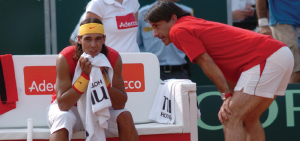 the world, I hope to do just that. Emilio was the Davis cup coach for Spain as well in 2008 When they won Davis Cup that year.
He is the founder and directs the Sanchez-Casal academy which he and Two-Time grand Slam partner Sergio Casal founded in 1998.
The academy is one, if not the largest in Europe, with 130 Full time students from all over the world.
Some who have trained there include:
1. Andy Murray
2. Grigor Dimitrov
3.Svetlana Kuznetsova

Former world #1's
4. Aranxta Sanchez Vicario
5. Martina Navratalova
6. Martina Hingis
7. Ana Ivanovic
and many others., very impressive……
He then followed up his Academy in Barcelona by opening the Academia Sanchez‐Casal in Naples Florida in 2012 in hopes of continuing the momentum and the success he has already established overseas.
Well Recently, I had the opportunity to teach with Emilio here at my club the Grand Traverse Resort and Spa in Traverse City Michigan
Fernando Belmar, one of the resorts pros actually worked at the Sanchez-Casal academy in Barcelona and really was the reason that Emilio came to visit our club in the first place, but I am sure glad he did.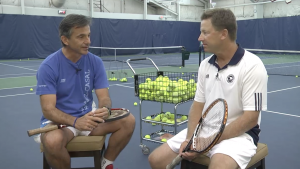 We taught for two days on court to adult and junior players from the area and let me tell you…….this guy is legit. What I mean by this is that he, apart from being a super nice guy, it is very obvious how passionate he is regarding the game of tennis. He just doesn't slap his name on an academy and sit back while others run it for him, he actually is on court the whole time, feeding balls non-stop.
I felt like an intern at my first summer gig, trying to learn as much as I could and stay on task with his philosophies and teaching techniques. I will say that I slept very well when the weekend was over.
When we finished on Sunday, Emilio was gracious enough to sit down for an interview with me and give me some of his best doubles tips that have worked for him in the past.
In todays interview, Emilio and I talk about
What it was like playing on tour
Why he got into teaching
Coaching Davis Cup
His Spanish method of Teaching
What you say to Rafael Nadal in Matches
What can recreational players do to improve their games
To get more information on what he has available at the Sanchez-Casal academy, you can go to: www.sanchez-casal.com to learn all about the programs their philosophy and training methods. You can also go to: www.asc-florida.com for is Florida academy
Key points from today's interview
1. Developing as an all-court player is very important
2. Playing back will give you higher balls to hit more offensively
3. Competing is KEY to playing well in matches. You have to learn to compete.
4. Tennis is repetition in practice and in matches
5. Big servers have the best opportunities
6. The best players are the ones who can break serve
7. Being able to repeat patterns is important in matches
8. Physical and mental are important factors in winning matches
9. Having the correct tools and using them in matches will create success in matches.
If you can do 30-40% of what you can do in practice, it is an unbelievable match
I remember after he left, I came home to see who was ranked in the top 100 at he time when he was #7.
Stephan Edberg
Boris Becker
Ivan Lendl
Andre Agassi
Pete Sampras
Andres Gomez
Thomas Muster
Emilio Sanchez
Goran Ivanisevic
Brad Gilbert
Other Notables
15. Michael Chang
20. Aaron Krickstein
25. Jim Courier
41. Matts Wilander
81. Pat Cash
120 Patrick McEnroe
One other interest that I had was to find out how many Americans were in the top 100 back then. That is definitely a focus of the USTA currently, being that we have dropped considerably on the men's side,
Here are some stats that are interesting and maybe even why Emilio decided to come over to the states in the first place.
 2014 Currently

USA – 1 player in top 50     Spain – 9 players in top 50 nearly one out of 5)
USA – 7 players in top 100   Spain – 13 Players in top 100 (twice as many)
Lets look back at 1990 when Emilio was playing from the USA perspective.
USA Men in 1990
10 Players in top 25
14 players in top 50
24 players in the top 100
(nearly half of the players in the top 25 were American and 25% of the top 100 players were American)
USA Women in 2014
2 in top 25
5 in top 50
7 in top 100
Women in 1990
9 in top 25
12 in top 50
26 in top 100
What happened? Well Emilio, any help you can provide is appreciated. I know the USTA with 10 and under tennis and other avenues is hoping to change these numbers
Well, As a side note, he will be returning this summer to visit and I am excited about that. Not sure if we will be doing another clinic together, but we are working on it.
If you have a question for him, just let me know and I will ask for you while he is here.  Just make sure you put QUESTION FOR EMILIO in the Subject
Remember, To get a one-page template of today's show, scroll to the bottom of the show notes and download it for your files or notebook
If you would like to comment on today's episode, you can do so at the bottom of the post. I would love to hear from you and thank you in advance if you decide to do so.
Links related to Today's Episode
 Video of Serving Progression Guide (go to 4:51 in video): https://www.youtube.com/watch?v=v_uww55GviY
Barcelona –  http://www.sanchez-casal.com
Florida –  http://www.asc-florida.com
Template of Today's Episode – CLICK HERE